2008 Chevrolet Impala Trans Oil Cooler Line Repair in Tualatin, OR
I really need to drive this Impala. Can't I just drive this thing around if I have a problem with my transmission oil cooler line?
A vehicle with a broken or leaking oil cooler line can lose transmission fluid very quickly. It will be hard to judge how much fluid you actually have and how much you have left in the system. It will be hard to judge how long you will have fluid in your machine at the current rate. The final problem is that you will likely have a lack of lubrication in your vehicle at some point.
When do I need to look at my transmission cooler lines as something that I should look at getting repaired?
Unfortunately, there is no set stone amount of time or mileage level that seems consistent with everyone who needs their trans oil cooler line repaired. The truth is that high mileage vehicles are more likely to have this problem because of the possible degradation that has happened over time. What you will find, most of the time is that the transmission cooler has failed and this piece gets recommended as something to be repaired as well. Transmission coolers are known to fail from heat or collisions.
What should I expect if I have a problem with my trans oil cooler line?
The most noticeable thing is that you will visually see leaking or you will see drops of oil underneath your vehicle.
What happens after that if I bring it in?
If the fluid is not oil and is actually transmission fluid then your vehicle has to be raised up. Your cooler lines and your cooler will be inspected to see if they are the culprits. The job is much more simple if the transmission fluid lines, cooler, and the transmission are cleaned before this begins, however.
What does this thing do anyway?
The cooler lines have the job of carrying transmission fluid between the transmission and the external/integrated cooler, whichever you may have in your Impala. The fluid gets hot when it gets into the transmission. It, then, gets pushed back to the transmission cooler which works to get rid of that heat. The fluid is then transported back to the transmission to start the cycle again. You can usually find this thing built-in into the radiator in most vehicles.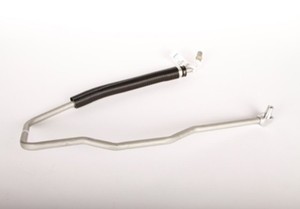 How do you figure out that my Impala has a problem with my transmission cooling line?
The first thing a technician or a mechanic will do is to look at your vehicle. They will be looking for leaks. The transmission cooler lines will be looked at and will be replaced or resealed if need be. Any parts that have become bad will be replaced and they will test your transmission again.
What happens if I need this repair but I can't afford it? I'd like to be able to use my Chevrolet Impala and have it be in good repair. What do I do?
If you have 25 dollars and a checking account then we have access to a program that has a very high chance of approving you. It approves about 95% of the people who come into the store. It will probably be able to help you too. Stop by our shop and find out what it can do for you too.
Where do I go to see you in person? Do I call you? How can I set up an appointment to see you at your shop in Tualatin? I'd like you to have a look at my 2008 Chevrolet Impala.
You can call 503-692-0846 during our normal business operating hours to speak to us over the phone. You can also choose to visit us in the shop by visiting 19460 SW 89th Ave. Tualatin, OR 97062.
Photo Credits:
https://content.homenetiol.com/2000292/2143540/0x0/5bfbc3ab3ebd48688021758d9c2f99f9.jpg
https://i.ebayimg.com/images/g/FWIAAOSwqxRa108y/s-l300.jpg